Biomedical at Arab Health 2021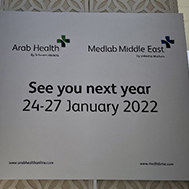 Biomedical thanks all participants who visited our stand, bringing back that emotion to the meeting that we had missed so much, which once again made Biomedical participation in Arab Health 2021 special.
In addition to the Biocut-N novelty, the new reusable Biomedical gun for biopsy, the needles for soft tissue biopsy such as Bioshot, coaxial biopsy needles BDPS, the complete line for bone biopsy such as the BLT, the echogenic line Echoblack with the Mec, the needle with excellent visibility under ultrasound guidance and the anesthesia needle for the AET nerve block. Including the latest generation TATO product: the microwave multi-applicator thermal scaler, presented in combination with TATOpro, the finest applicators on the market for the treatment of neoplasms.